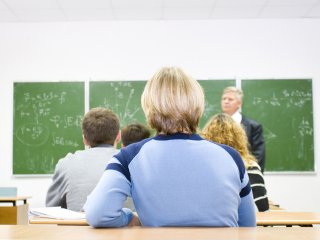 Course Type:
Instructor Led - 4 Weeks Long
Description
Objectives
Outline
Materials
System Requirements
Taking our Classroom Management Secrets course will give participants practical advice and step-by-step instructions for devising a classroom management plan that motivates their students to want to behave in the classroom.  Among many things, topics will cover important information on how to handle difficult students, how to fuel intrinsic motivation, how to teach routines, and how to be a calmer, more effective teacher.
After completing this course, you should be able to:
Identify how to create a positive and warm learning environment through classroom management
Recall ways to cope with difficult students and diffuse potential conflicts
List the specific strategies that improve intrinsic motivation
Recognize classroom management techniques 
Classroom Management Secrets Problems Module 1
Creating a Positive Learning Environment
This module gives an overview of "The Classroom Management Secret" as defined by the author of the textbook.  Items of interest include how to create a positive and warm learning environment, the importance of teaching students your classroom management plan, and how to use your personality effectively in order to elicit appropriate student behaviors.
The Classroom Management Secret

The Biggest First Day of School You Can Make
How to Teach Your Classroom Management Plan
Classroom Management and the Power of Your Personality
How Your Classroom Environment Can Improve Behavior
Classroom Management Secrets Module 2
How to Manage Difficult Students and Conflicts
This module addresses many issues for coping with difficult students when classroom management plans are not adhered to by the difficult students.  It also addresses how to manage student conflicts among each other.
Why You Need to Draw a Line in the Sand with Difficult Students

Why You Shouldn't Ask Misbehaving Students to Explain Themselves
Soul-Searching Things to Say to Difficult Students
Ways to Build Rapport With Difficult Students
How to Handle Student Drama
Classroom Management Secrets Module 3
Improving Intrinsic Motivation                                                          
This module offers specific strategies with regard to improving intrinsic motivation in students.  Some items of interest include student boredom, why micromanaging is not effective, and how to improve student attention.
Why Reminders Make Classroom Management More Difficult

Simple ways to Improve Listening
Things Teachers Do to Cause Boredom
Ways to Capture Students' Attention
How to Fuel Your Students' Intrinsic Motivation
Classroom Management Secrets Module 4
Restarting Your Classroom Management Plan
The final module describes how teachers can "restart" their classroom management plan in the middle of a school year if things are going badly.  It gives simple advice on what to do if you have lost control of your classroom.  It also encourages teachers to monitor their own personality traits that may impede their classroom management plan.
What to Do When You Realize You Have Lost Control of Your Classroom

How to Press the "Restart" Button on Classroom Management
Improving Classroom Management By Doing Less
Why You Should Never, Ever Yell at Students
Ways to Be a Calmer, More Effective Teacher
Ed4Career is committed to being both environmentally conscious and making it easier for you to study! We're making your education mobile! All of our textbooks are now provided as eTextbooks. You can access them on your laptop, tablet, or mobile device and can study anytime, anywhere.
The move away from physical books to eTextbooks means you get the latest, most up-to-date version available. This also makes your training more accessible, so you can study anywhere you have your phone or tablet. The best part is that all materials are included in your training cost so there are NO extra fees for books!
Internet Connection
Broadband or High-Speed - DSL, Cable, and Wireless Connections
*Dial-Up internet connections will result in a diminished online experience. Classroom pages may load slowly and viewing large audio and video files may not be possible.
Hardware Requirements
Processor - 2GHz Processor or Higher
Memory - 1 GB RAM Minimum Recommended
PC Software Requirements
Operating Systems - Windows 7 or higher
Microsoft Office 2013 or higher. Also, you could use a general Word Processing application to save and open Microsoft Office formats (.doc, .docx, .xls, .xlsx, .ppt, .pptx)
Internet Browsers - Google Chrome is highly recommended


Cookies MUST be enabled
Pop-ups MUST be allowed (Pop-up Blocker disabled)

The Kindle Reader App or VitalSource Bookshelf App are needed for many of our courses (No special equipment needed. This can be downloaded for FREE onto your computer.)
PowerPoint Viewer (if you do not have PowerPoint)
QuickTime, Windows Media Player &/or Real Player
MAC Software Requirements
Operating Systems - Mac OS x 10 or higher with Windows
Mac office programs or a Word Processing application to save and open Microsoft Office formats (.doc, .docx, .xls, .xlsx, .ppt, .pptx)
Internet Browsers- Google Chrome is highly recommended


Cookies MUST be enabled
Pop-ups MUST be allowed (Pop-up Blocker disabled)

The Kindle Reader App or VitalSource Bookshelf App are needed for many of our courses (No special equipment needed. This can be downloaded for FREE onto your computer.)
PowerPoint Viewer (if you do not have PowerPoint)
Adobe PDF Reader
Apple QuickTime Media Player