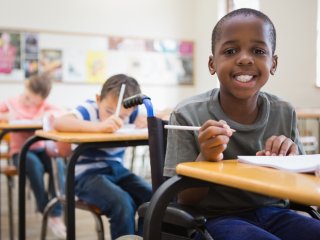 Course Type:
Instructor Led - 4 Weeks Long
Description
Objectives
Outline
Materials
System Requirements
This course will take special education teachers through the tasks that are necessary for meeting needs of the students with disabilities successfully. The primary goal of this class is to provide pertinent and practical information for teaching in the special education field, whether it is a special education classroom or just needing assistance with inclusion for students with special needs in the classroom setting. Professionals will learn to identify resources to assist with establishing a productive and satisfying career as a special education teacher. 
After completing this course, you should be able to:
Recall the key principals of the Individuals with Disabilities Act (IDEA)
Identify ten actions that will provide the foundation of your work as a special education teacher
List key evidence-based practices in the different content areas
Recognize strategies for managing the different roles and nonteaching responsibilities
Learning Disabilities: Practical Information for the Special Education Teacher Module 1
The Basics
Module one begins with providing an overview of the path to a great start in your career. Subjects such as searching for the right position and interviewing for jobs. This module also outlines the actions for new educators to move towards becoming an accomplished and effective teacher.
Snapshot for New Educators
Careful Job Search
The Team Approach
Individuals with Disabilities Act (IDEA)
Individualized Education Plans (IEPs)
Learning Disabilities: Practical Information for the Special Education Teacher Module 2
Becoming an Accomplished Educator
Now that you have learned and reviewed the basics, the course will focus on becoming an accomplished educator. It focuses more on the finer points of the profession such as collaboration, positive approach to behavior management, and motivating students.
Organizing Work, Space, and Time
Balancing the Tasks
Collaboration
Behavior Management
Establishing High Expectations
Learning Disabilities: Practical Information for the Special Education Teacher Module 3
Approaching Instruction
In module three, you will focus on mastering effective practices. Throughout this module, there are discussions on how to improve your instruction and focus on key instructional ideas for reading, writing, math, science, and social studies.
Improve Instruction
Frameworks for Approaching Instruction
Apply Knowledge of Evidence-Based Practices
Implementing Strategies
Learning Disabilities: Practical Information for the Special Education Teacher Module 4
Evidence Based Instruction
Module 4 will focus on putting all the pieces together using evidence-based practices to work with student with severe disabilities. Learning to implement these strategies will help you become an accomplished special education teacher. 
Students with Severe Disabilities
Students with Significant Health Issues
IDEA Services
General Education Curriculum
Lifelong Learning
Ed4Career is committed to being both environmentally conscious and making it easier for you to study! We're making your education mobile! All of our textbooks are now provided as eTextbooks. You can access them on your laptop, tablet, or mobile device and can study anytime, anywhere.
The move away from physical books to eTextbooks means you get the latest, most up-to-date version available. This also makes your training more accessible, so you can study anywhere you have your phone or tablet. The best part is that all materials are included in your training cost so there are NO extra fees for books!
Internet Connection
Broadband or High-Speed - DSL, Cable, and Wireless Connections
*Dial-Up internet connections will result in a diminished online experience. Classroom pages may load slowly and viewing large audio and video files may not be possible.
Hardware Requirements
Processor - 2GHz Processor or Higher
Memory - 1 GB RAM Minimum Recommended
PC Software Requirements
Operating Systems - Windows 7 or higher
Microsoft Office 2013 or higher. Also, you could use a general Word Processing application to save and open Microsoft Office formats (.doc, .docx, .xls, .xlsx, .ppt, .pptx)
Internet Browsers - Google Chrome is highly recommended


Cookies MUST be enabled
Pop-ups MUST be allowed (Pop-up Blocker disabled)

The Kindle Reader App or VitalSource Bookshelf App are needed for many of our courses (No special equipment needed. This can be downloaded for FREE onto your computer.)
PowerPoint Viewer (if you do not have PowerPoint)
QuickTime, Windows Media Player &/or Real Player
MAC Software Requirements
Operating Systems - Mac OS x 10 or higher with Windows
Mac office programs or a Word Processing application to save and open Microsoft Office formats (.doc, .docx, .xls, .xlsx, .ppt, .pptx)
Internet Browsers- Google Chrome is highly recommended


Cookies MUST be enabled
Pop-ups MUST be allowed (Pop-up Blocker disabled)

The Kindle Reader App or VitalSource Bookshelf App are needed for many of our courses (No special equipment needed. This can be downloaded for FREE onto your computer.)
PowerPoint Viewer (if you do not have PowerPoint)
Adobe PDF Reader
Apple QuickTime Media Player